Alphadex IDO Whitelist on Ignition
We are excited to announce that Alphadex will launch its IDO on PAID Networks Ignition launchpad!
Here are the important dates to note for participation:
📅 Lottery opens: January 13
⏰ Lottery closes: January 17 (4AM UTC)
🏆 Whitelisted lottery winners announcement: January 18
🆔 KYC closes: January 20
🚀 IDO on Ignition: January 21!
🔗 Raise chain: BSC, so you will need BNB to fund your allocation
🔒 Vesting: 100% at TGE. Your tokens will be airdropped to you.
How it works:
Ignition is a lottery based launchpad platform. In order to ensure you will participate successfully, follow these steps and read the disclosed information thoroughly:
1. Adhere to the PAID Ignition Lottery Rules.
2. Visit the website and sign-up on the Ignition Launchpad platform.
3. Stake your PAID tokens on Ignition. You can pick short term staking or long term staking. Make sure you stake your tokens before the whitelist closes and keep them staked until the actual date of the IDO in order for your application to be considered valid.
*More information about the tiers can be found in the lottery rules.
4. Complete the Ignition KYC procedure with Ignitions partner Synaps.
You can read more about the nationalities that are not allowed to participate in any Ignition IDO here. KYC has to be completed at least 48h before the IDO on January 21.
5. Join the whitelist lottery before it closes. After the whitelist closes, a snapshot will be taken and the lottery winners will be drawn. The winners will be announced through the PAID Networks Telegram Announcements Channel. Good luck!
About PAID Network
For more information regarding the PAID network, feel free to visit the following channels:
Telegram chat
Telegram announcements channel
Twitter
Medium
FAQ
Ignition website
About Alphadex
Alphadex is the ultimate Cross-Chain AMM, Incubator, and NFT Launchpad powered by Moonriver. Alphadex is partnered with the best-in-class technologies to help provide an unparalleled safe trading protocol and user experience. It aims to provide the most accurate up-to-date pricing methodologies with a world-class oracle. Its native token is $ROAR and it has a total supply of 120 million.
For more details, email admin@alphadex.io
Website | Telegram | Discord |Twitter | GitHub
PolkaBridge x AlphaDex: IDO Registration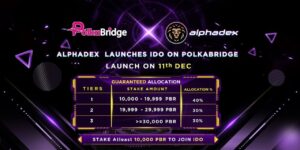 Click here to register
PolkaBridge Announces New Tier System For Launchpad IDO — Guaranteed Allocation
PolkaBridge Launchpad-based Initial Decentralized Offerings (IDOs) will be following new rules, effective immediately. This modification is being carried out to ensure fairness in distributing IDO tokens so that all participants can acquire them with ease without a single party fetching a high percentage of supply, prevent the system from being gamed and increase the value of PBR tokens.
PolkaBridge Launchpad Tier System — Guaranteed Allocation
The minimum amount to stake is 10,000 PBR tokens and must be staked at least 1 day before the IDO takes place.
Tier1 — If you stake at least 10,000 PBR and up to 19,999 PBR, you will participate in sharing 40% of the total IDO allocation
Tier2 — If you stake between 20,000 PBR — 29,999 PBR tokens, ou will participate in sharing 30% of the total IDO allocation
Tier3 — If you stake above 30,000 PBR tokens, ou will participate in sharing 30% of the total IDO allocation
Note: Need to fill out the form to confirm the staking. Each IDO will have its own registration form. Please follow the channel t.me/polkabridge to update the latest IDO projects
We decided to go with this three-tier IDO allocations system, after listening to the community feedback and in the spirit of allowing every qualifying user to acquire IDO tokens. This will also promote long term hold of PBR tokens and reduce sell pressure, as more supply is locked to gain access to promising projects.
About PolkaBridge
PolkaBridge is a decentralized all-in-one financial applications platform. The PolkaBridge ecosystem is expected to include cross-chain AMM, Farming, Lending, Fundraising platform (Launchpad), Prediction, NFT, and more. All products will be developed with Polkadot in the center.
❇️ Website: https://polkabridge.org
❇️ Farming https://farm.polkabridge.org
❇️ Staking https://stake.polkabridge.org
❇️ LaunchPad https://launchpad.polkabridge.org
❇️ Swap (AMM) https://swap.polkabridge.org
❇️ Twitter: https://twitter.com/realpolkabridge
❇️ Medium: https://medium.com/@polkabridge
❇️ Github: https://github.com/cyclese96
❇️ Telegram Channel https://t.me/polkabridge
❇️ Telegram Group https://t.me/polkabridgegroup
❇️ Discord https://discord.gg/G3NDrcq6GW
❇️ Reddit https://www.reddit.com/r/polkabridge_official
❇️ CoinMarketcap https://coinmarketcap.com/currencies/polkabridge
❇️ Coingecko https://www.coingecko.com/en/coins/polkabridge