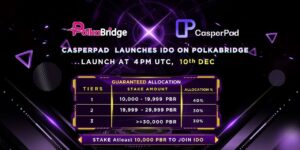 PolkaBridge Launchpad-based Initial Decentralized Offerings (IDOs) will be following new rules, effective immediately. This modification is being carried out to ensure fairness in distributing IDO tokens so that all participants can acquire them with ease without a single party fetching a high percentage of supply, prevent the system from being gamed and increase the value of PBR tokens.
PolkaBridge Launchpad Tier System — Guaranteed Allocation
The minimum amount to stake is 10,000 PBR tokens and must be staked at least 1 day before the IDO takes place.
Tier1 — If you stake at least 10,000 PBR and up to 19,999 PBR, you will participate in sharing 40% of the total IDO allocation
Tier2 — If you stake between 20,000 PBR — 29,999 PBR tokens, ou will participate in sharing 30% of the total IDO allocation
Tier3 — If you stake above 30,000 PBR tokens, ou will participate in sharing 30% of the total IDO allocation
Note: Need to fill out the form to confirm the staking. Each IDO will have its own registration form. Please follow the channel t.me/polkabridge to update the latest IDO projects
We decided to go with this three-tier IDO allocations system, after listening to the community feedback and in the spirit of allowing every qualifying user to acquire IDO tokens. This will also promote long term hold of PBR tokens and reduce sell pressure, as more supply is locked to gain access to promising projects.
PolkaBridge Launch Staking Program Introduction
We are excited to announce that our staking program has been launched. Every month, a total of 300,000 PBR will be extracted from Ecosystem Fund, which will be transferred to the staking pool as a reward.
The PolkaBridge team is always striving to introduce new concepts to ensure fairness and equal distribution of IDO tokens to our community. So we launched this staking program which comes with some incentives for IDO participants
Staking Tutorial
Visit Staking Portal https://stake.polkabridge.org. Grant approval to the smart contract to spend your PBR tokens. This will cost a small amount.
2. Next enter the amount that you wish to stake. If you want to stake the whole amount in your wallet, click max. Next click confirm.
3. If you wish to withdraw tokens, click unstake. Enter the amount and click confirm.
About PolkaBridge
PolkaBridge is a decentralized all-in-one financial application platform. The PolkaBridge ecosystem is expected to include cross-chain AMM, Farming, Lending, Fundraising platform (Launchpad), Prediction, NFT, and more. All products will be developed with Polkadot in center.
❇️ Website: https://polkabridge.org
❇️ Farming https://farm.polkabridge.org
❇️ Staking https://stake.polkabridge.org
❇️ LaunchPad https://launchpad.polkabridge.org
❇️ Twitter: https://twitter.com/realpolkabridge
❇️ Medium: https://medium.com/@polkabridge
❇️ Github: https://github.com/cyclese96
❇️ Telegram Channel https://t.me/polkabridge
❇️ Telegram Group https://t.me/polkabridgegroup
❇️ Discord https://discord.gg/G3NDrcq6GW
❇️ Reddit https://www.reddit.com/r/polkabridge_official/
❇️ CoinMarketcap https://coinmarketcap.com/currencies/polkabridge/
❇️ Coingecko https://www.coingecko.com/en/coins/polkabridge