Gamified Decentralized Finance.
DeFi Land is a multi-chain agriculture-simulation web-game created to gamify decentralized finance. The game will have all the features that traditional platforms have, but it will be gathered all in one place. DeFi Land gamifies decentralized finance by turning investment activities into games.
Register for the whitelist at here.
Features
– Swap
– Liquidity providing
– Staking &Yield Farming
– Governance
– Educational land (Practice mode)
– Achievements (Play to earn)
– Lending & Borrowing
– Indexes
– NFT marketplace
– Interactive Chat
– Predictions & Betting
– Unions, clans and battling
– Lots of fun mini games
– Tournaments
– Project launchpad
– Ethereum, Terra and BSC lands
Version 1
Version 2
Team
DeFi Land is built by an experienced growing team of 7 who have been researching& exploring the Decentralized Finance industry.
We have successfully led companies in multiple industries such as AR, VR, AI, gaming, Fintech and ERP. Our team has worked and partnered with the biggest companies such: NVIDIA, AWS, Magic Leap and other companies across multiple regions.
Our expertise in gaming, working directly with customers and building customer centric product will ensure the best UX for our players. All the team members have vast experience and computer science backgrounds, giving us a strong edge to quickly deliver high quality products.
Roadmap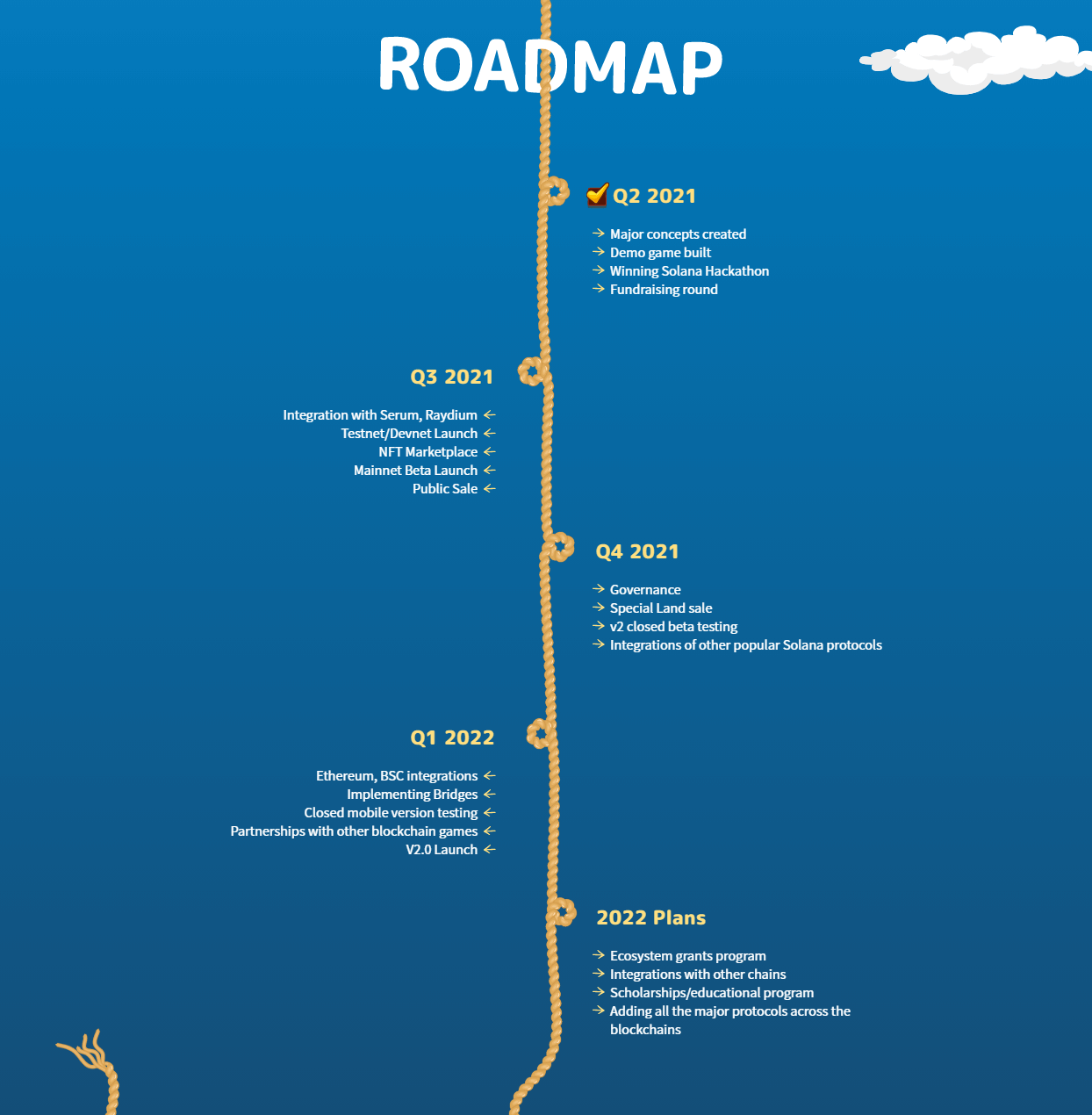 – Q2 2021
Major concepts created
Demo game built
Winning Solana Hackathon
Fundraising round
– Q3 2021
Integration with Serum, Raydium
Testnet/Devnet Launch
NFT Marketplace
Mainnet Beta Launch
Public Sale
– Q4 2021
Governance
Special Land sale
v2 closed beta testing
Integrations of other popular Solana protocols
– Q1 2022
Ethereum, BSC integrations
Implementing Bridges
Closed mobile version testing
Partnerships with other blockchain games
V2.0 Launch
– 2022 Plans
Ecosystem grants program
Integrations with other chains
Scholarships/educational program
Adding all the major protocols across the blockchains
Investors