DEFIYIELD – $5,000 IDO ALLOCATION GIVEAWAY on Infinite Launch
Your Chance To Win A Share of $5,000 IDO allocation
You asked for it. We make it happen. We are very delighted to announce that Infinite Launch hosts an exciting event – DefiYield IDO Whitelist Contest!
Total Prize:
⚡ 200 random valid participants will be whitelisted to join DefiYield IDO, which is worth $20 for each person.
⚡ 50 random valid participants with high-quality review posts chosen by Infinite Launch team will be allocated an extra $20 for DefiYield IDO. Hence, the maximum allocation per person is $40.
Contest duration: Now to 1 pm UTC 13th Mar
Results will be announced on our official channel on 14th Mar.
Contest rules:
All steps are mandatory. Users must register and complete all steps listed below.
Infinite Launch and DefiYield team reserve the right to make the final decision on the outcome of this event.
👉Quickly complete the tasks and get whitelisted here
DeFiYield Private Sale

Giveaway on TrustFi (closed)


🎁We are giving away $200Allocation to the Top 10 Entrants for our DeFiYield Flash Private Sale!🎁
🎁100 Lucky Winners will be awarded with $50 Allocationeach!🎁

⚡️Flash Private Round Sale – FPS⚡️

🔸Open to Whale and Dolphin Tier Holders and "The Chosen One"NFT Holders

👉Make Sure to Check out the DeFiYield Research Report & TrustFi IDO Calendar!👈

🏆Enter your details & Complete Tasks to have a Higher Chance at Winning🏆


🔥CONTEST PERIOD: 10 Feb 2022 – 16 Feb 2022
⏰SALE DATE: 17 February 2022
⏰SALE WINDOW: 5-8 PM UTC
📅LISTING DATE: TBA


Click here to register

📣Results will be announced on our Official Twitter and Telegram Channels upon ending!
Defiyield x BrandPad Whitelist Competition (closed)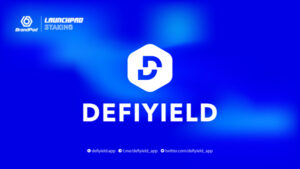 Control your digital assets with a full suite of innovative tools. Invest confidently, supported by our auditing experts.
The more entries you can get by completing all of the tasks, the higher your chances of winning an allocation.
Allocation size: 200 BUSD Each Winner
Pool Size: 50K
Total Winners: 250 + 250 Back-up
Private Sale Currency : BUSD
WhiteList Sale Type: FCFS
The first 100 people are guaranteed a place in the white list.
PRIVATE SALE DETAILS
Total supply: 1,000,000,000
Private Sale Price: 0.24 $
Vesting: 9 Months with Daily Linear Unlock
Private Sale Date : 12th Feb- 18.00 UTC
Launch Date : Q1
Blockchain: ETH, BSC, AVAX
Click here to register
DEFIYIELD OFFICIAL LINKS
BrandPad OFFICIAL LINKS
How to Participate
Complete all of the tasks.
Users must provide a valid BSC -BEP20 (Metamask or Trustwallet) address.
Multiple entries or any forms of cheating will not be accepted.
DeFiYield's Private Sale on MoonStarter (closed)
Dear Community,
We are happy to announce that DeFiYield has selected MoonStarter as one of their launchpads for their private sale.
About DeFiYield
DeFiYield is the first cross-chain decentralized security network fulfilling the goal of making the DeFi space safer for everyone by developing the fully automated smart contract security scanner.
DeFiYield also built a unique investment dashboard pursuing the all-in-one approach allowing users to:
Track investment opportunities
Watch performance metrics of their crypto portfolios including P&L, impermanent loss and farming rewards
Relocate funds across different projects and blockchains
Stay protected with the built in alerting system that informs about approvals for malicious Dapps having backdoors, infinite minting or other security issues exposing user funds to risks.
The dashboard is designed to be compatible with Ethereum, Binance Smart Chain, Polygon, Arbitrum, Avalanche, Solana, Polkadot and all non-EVM-compatible chains.
Introducing the $DEFI token
$DEFI is an ERC20 token existing across multiple chains: Ethereum, Binance Smart Chain and Avalanche.
The main use case of the token is the implementation of an on-chain governance system, which is a key element of decentralized protocols. Being fully community-oriented, DeFiYield enables users to make strategic decisions on the project's development.
Other use cases include:
Discount for the app services for $DEFI holders. For example, a discount will be applied to Multi-harverting — a service allowing users claiming rewards from all pools simultaneously
Obtaining full access to all DeFiYield products: the audit database, the rekt database, the smart contract scanner and approved contracts info;
Accessing and commenting closed community chats on DeFi projects
Strategic partnerships. This includes implementation of $DEFI as additional rewards for participation in certain pools of partnering projects
Collateralization of DeFiYield's own stablecoin — $defiUSD; Staking and locking $DEFI for creating and running verification nodes on DeFiYield Chain
Requesting smart contract auditing with decentralized verification, where payments for the service are done in $DEFI and used to reward node validators for performing smart contract security checks with the automated scanner
For more details, please refer to the whitepaper HERE.
Private Sale Details
Contribution chain: BSC
Distribution chain: BSC
Date: 09 February 2022 at 4 PM UTC
Price per token: $0.24; 9 months vesting daily linear
Total allocation: $150,000
How to participate ?
Please refer to our Medium article explaining our Tier System to get more info about our 2 paths to secure an allocation for DeFiYield. In order to participate, you have to complete the Google Form HERE before February 7th, 2022 at 11:59 PM (UTC).
For The Galaxy Path, you will need to start staking MNST by February 5th, 2022 at 11:59 PM (UTC), at the latest.
Whitelist results will be published on February 8th at 1PM (UTC).
For The Competition Path, you will have to perform tasks of Gleam Competition. You can start by clicking HERE.
Important! You will need to hold at least 1000 MNST to qualify for the competition.
KYC is not required.
About MoonStarter
MoonStarter's mission is to be the single-stop multi-chain launchpad for selected projects without distinction of the blockchain used. While the current project landscape is scattered and dependent on the blockchain used, MoonStarter aims to offer the possibility to launch on one or multiple selected blockchains, using only one token on the Binance Smart Chain.
DeFiYield Ido
on LunaPad (closed)

DEFIYIELD whitelist competition
There will be a total of 100 people who will receive the right to purchase 200 usd per person
Lunapad will host DeFiYield Private Sale  on January 31, 2022 (1:00 PM UTC)
IDO will be on: app.lunapad.co
Amount to Raise : 200k BUSD
Click here to register
DefiYield IDO Whitelist on InfinityPad (closed)
We are excited to announce DEFIYILED Private Sale IDO on Infinitypad.io (INFP) Launchpad
$DEFI- Manage Your DeFi Life. Asset Management Dashboard secured by a Blockchain Security
– Private Sale IDO Start: 4th Feb, 16:00 UTC
– Fund Raising Method: INFP Holders + Public (FCFS)
– Amount to be Raised: $150,000
– Currency: BUSD
– Private Sale IDO Price: $0.24
Pool: 1
$130,000 worth of allocation to INFP holders
– Allocation: As per tiers
– MIN 10K $INFP STAKING/ HOLDING REQUIRED
Pool: 2
$20,000 worth of allocation to public
– Open to public, No $INFP holdings required
– Allocation of $100 per winner
– Total winners:  200 spots (Top 100 + 100 random)
The more entries you get by completing the tasks and referring people, the higher your chance of winning an allocation
Make sure you commit your BUSD as soon as possible as fundraising method is FCFS.
Click here to register
DEFIYIELD Official Links:
Note: TOP 50, Infinity, and Galaxy holders are required to fill their address only. Social tasks are not compulsory for them.