Dear Community,
We are happy to announce that Metamall has selected MoonStarter as one of their launchpads for their IDO.
About Metamall
Metamall will provide a first-of-its-kind virtual reality (VR) experience on the blockchain, allowing users to build, explore, and trade in their very own virtual mall.
The Metamall is a gamified shopping, lifestyle and experience zone. Thanks to VR technology, it converts everyday tasks like shopping, socializing and business interactions into an immersive experience.
As a social gathering spot, the Metamall fulfills four objectives:
Shopping: by offering separate shopping zones for commercial properties to set up showrooms and business interactions
Entertainment: by featuring lifestyle experiences like Casinos, Clubs, VR games, Diners or even NFT art galleries
Engagement: by allowing friends to hang out, party, date and socialize in the metaverse
Advertising: by enabling property owners to buy and develop properties for customized VR experiences
Built on the Solana network, the native token $MALL will allow users to:
Pay for network fees or anything in the Metamall universe
Buy virtual real estate (LAND)
Earn money by leasing, staking, advertising and developing the real estate
Transact on the NFT Marketplace
Participate in the governance and vote on policy-making referendums
For more details, please refer to the whitepaper HERE.
Token Metrics
Initial market cap excluding liquidity: $500,000
Read More about the Tokenomics (p17–18)
IDO Details
Chain: BSC
Date: 25 January 2022 at 12 PM UTC
Price per token: $0.005; 25% at TGE, then 25% monthly
Total allocation: $100,000
How to participate ?
Please refer to our Medium article explaining our Tier System to get more info about our 2 paths to secure an allocation for Metamall. In order to participate, you have to complete the Google Form HERE before January 23rd, 2022 at 11:59 PM (UTC).
For The Galaxy Path, you will need to start staking MNST by January 21st, 2021 at 11:59 PM (UTC), at the latest.
Whitelist results will be published on January 24th at 1PM (UTC).
For The Competition Path, you will have to perform tasks of Gleam Competition. You can start by clicking HERE.
Important! You will need to hold at least 1000 MNST to qualify for the competition.
For both paths, KYC is required and you need to have it approved by January 23rd, 2022 at 11:59 PM (UTC) — KYC Link HERE (soon)
We remind you that if your KYC is taking more than 24h to be approved, we advise you to contact Blockpass support by opening a ticket.
About MoonStarter
MoonStarter's mission is to be the single-stop multi-chain launchpad for selected projects without distinction of the blockchain used. While the current project landscape is scattered and dependent on the blockchain used, MoonStarter aims to offer the possibility to launch on one or multiple selected blockchains, using only one token on the Binance Smart Chain.
MetaMall IDO Whitelist on GameStation
In this article you will learn about Metamall which launches on January 27th on GameStation. Details of the IGO are at the end of the article.
Dear Gamer!
Check out the next GameStation IGO, Metamall. Enter the future of retail with Metamall!
What's Metamall?
Metamall is a decentralized metaverse mall built using the Solana framework. It offers a one-of-a-kind virtual reality experience with a variety of themes, architecture, and interactive VR components. The Metamall metaverse is designed like a spaceship with different zones, each of which facilitates a unique type of experience.
Users can earn tokens by selling, leasing, playing or staking assets. They can also create stores, games, arena and experiences. Users can have their own high street, lounges and game zones.
Metamall will be having an NFT land sale. For further details including the 5 different NFT types up for grab, then go here: https://www.metamalls.io/landsale.html
The $MALL token is the native and governance token of the Metamall metaverse. Go here for details of the tokenomics: https://drive.google.com/file/d/1cpx76F_F9buWIr_3L8jrEXZfyhTs5PlY/view
Metamall Socials:
Website: https://www.metamalls.io/
Twitter: https://twitter.com/Metamall_io
Telegram: https://t.me/MetamallOfficial
How to Participate:
GameStation will shortly announce which tier system will apply to this IGO.
You will be asked to add your Solana address before depositing.
Project Key Metrics:
Ticker: $MALL
Snapshot: Wednesday, January 26th at 11:59 PM UTC

GameStation Public Allocation: $100,000
Network: BSC
Currency: BUSD
IDO Price $MALL= $0.005
Top 420/FCFS/Lottery/Play4Allo Round Start Time: January 27th 16:00 UTC Top 420/FCFS/Lottery/Play4Allo Round End Time: January 28th 04:00 UTC (12 hours)

Initial Market Cap: $500,000
Total Supply $MALL: 10,000,000,000
Vesting Schedule (Public): 25% in TGE, 25% monthly post that
TGE Date and Hour: February 7th at 16:00 UTC airdropped by Metamall
About GameStation
GameStation is a multi-chain community-oriented gaming incubator and launchpad. We are adding a gamification layer to the launchpad to make it easier and more fun for gamers to participate and invest in innovative games. GameStation will also allow users access to an NFT marketplace where they can buy and sell in-game items easily. Finally, the community is at the center of GameStation, and gamers will have the opportunity to create social events and tournaments.
Website|Telegram |Medium |Twitter
MetaMall x BrandPad Private Sale Whitelist Competition (closed)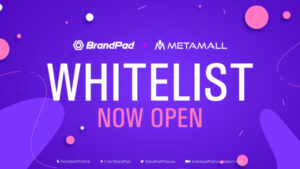 MetaMall is a virtual Mall Metaverse that will allow users to interact and engage with the biggest brands of the future in a VR First world from the comfort of their homes. 
MetaMall is the realization of the convergence of technologies such VR, NFT and DeFi.
The more entries you can get by completing all of the tasks, the higher your chances of winning an allocation.
Allocation size: 100 BUSD Each Winner
Total Winners: 200
Private Sale Date : 20January – 18.00 UTC
Launch Date : TBA
Private Sale Currency : BUSD
Sale Type: FCFS
PRIVATE SALE DETAILS
Total supply: 10,000,000,000
IDO Price: 0.004 $
Listing Price: 0.005$
Initial Market Cap: 500k$
Vesting: 10% at TGE, 10% Monthly
METAMALL OFFICIAL LINKS
BrandPad OFFICIAL LINKS
How to Participate
Complete all of the tasks at here
Users must provide a valid BSC -BEP20 (Metamask or Trustwallet) address.
Multiple entries or any forms of cheating will not be accepted.