Okratech IDO Whitelist on DaoStarter
The public launch of Okratech will occur on DAOStarter. The whitelisting process for DAOStarter IDO is now live!
IDO Details
The key Okratech IDO details are as follows:
· Whitelist date: 6:00 am 18th of January 2022 UTC
· Whitelist closed: 5:00 am 23rd of January 2022 UTC
· Sale date: 9:00 am 23rd of January 2022 UTC
· Sale closed: 9:00 am 24th of January 2022 UTC
· USD$100,000 of $ORT will be available through the IDO, totalling 2,000,000 tokens
· Min investment: $200
· Max investment: $400
· IDO Price: $0.05
· Currencies: USDT
· IDO Type: FCFS
· Network: BSC
· Selected addresses for whitelist : 700
· Vesting Period: 18% TGE, 20.5%Monthly
Whitelist details
In order to qualify for the DAOStarter IDO and to get whitelisted, you need to fill out the Whitelisting form (link below) :
https://docs.google.com/forms/d/e/1FAIpQLSfjw6rbj70tpAmcIrCtv1vPksvE06-GjBFxmyhu0-F4sY8W9Q/viewform?usp=sf_link
Within the form, you will need to:
1. Confirm your email address
2. Twitter handle(Username)
3. Telegram handle(Username)
4. BSC wallet address
5. Set your NFT avatar on DAOStarter
6. Join the Okratech Telegram
7. Follow Okratech on Twitter
8. Join the DAOStarter Telegram Group
9. Follow DAOStarter on Twitter
10. Follow Follow DAOStarter Telegram Channel
11. Tag 3 friends in comments, and retweet the following tweet
Once you have completed all fields, submit the form.
Please Note:
Whitelist entries will be screened, with the following to be disqualified from participating in the IDO:
· Invalid wallet addresses, Twitter and Telegram accounts
· Entries made by bots
· Duplicate entries
· Incomplete entries missing any of the form criteria
After the whitelisting form closes, a randomized draw will generate a list of users approved for participation in the IDO. Approved users will receive an email from sale.
Important
· The Okratech team will NEVER message you first on any social media platform
· Users do not need DSTs to participate in whitelist activities
About Okratech
Ort is DeFi powered and self–governing DAO designed to act as a revolutionary decentralized and broad platform for freelancing.
Okratech IDO Whitelist Competition on LunaPad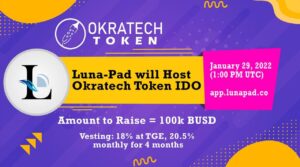 Okratech Token whitelist competition
There will be a total of 100 people who will receive the right to purchase 200 usd per person
Luna-Pad will Host Okratech Token
IDO on January 29, 2022 (1:00 PM UTC)
Amount to Raise = 100k BUSD
Vesting: 18% at TGE, 20.5% monthly for 4 months
Click here to register
Okratech IDO Whitelist Competition on PolkaEx
Dear PolkaExians, we are happy to announce that on January 27th, 2022, 12:00 PM (UTC), a new IDO project Ortcoin is launching on the PolkaEx launchpad.
Ortcoin Tokenomics
IDO Timeline & Details
Allocation: $100,000.
Date: January 27th, 2022, 12:00 PM (UTC).
IDO price: $0.05.
Currency: BUSD.
Network: BSC.
Initial Circulating Market cap: $333k.
Platform: PolkaEx Launchpad.
Vesting Period: 18% at TGE, 20.5% monthly for 4 months.
Token claim: PolkaEx Launchpad.
Private Pool
Private Pool allocation: $100,000.
Allocation type: According to tier system.
Time: 12:00–14:00 UTC, lasts for 2 hours.
Mode: Guaranteed.
Public Pool
Public Pool allocation: Unsold tokens from Private Pool.
Allocation limit: $100 — $2,000.
Time: 16:00–24:00 UTC, lasts for 8 hours.
Mode: First come, first serve (FCFS).
IMPORTANT
I. Stake the appropriate amount of $PKEX in the 'JOIN IDO(SHIDEN)' and 'JOIN IDO(BSC)' pool, any of the above 2 pools, to receive corresponding maximum allocation by tier grade. If you have staked in all 2 pools, the tier grade will be displayed according to the total stake amount. The deadline is 2 hours before IDO officially starts. (👉 app.polkaex.io/pools)
II. Regardless of which network you staked $PKEX under, the IDO will be done on BSC and stakers will need to switch their network to BSC, have $BUSD and a little $BNB for fees in the same wallet in order to purchase $MVP tokens on BSC. (👉app.polkaex.io/launchpad)
Restricted Region List
United States of America, Canada, People's Republic of China, the Hong Kong Special Administrative Region of the People's Republic of China, the Republic of Seychelles, Bermuda, Cuba, Crimea, and Sevastopol, Iran, Syria, North Korea, Sudan, Albania, Barbados, Botswana, Burkina Faso, Cambodia, Cayman Islands, Democratic People's Republic of Korea (DPRK), Ghana, Iran, Jamaica, Mauritius, Morocco, Myanmar, Nicaragua, Pakistan, Panama, Senegal, Syria, Uganda, Yemen, Zimbabwe; (ii) any state, country or other jurisdiction that is embargoed by the United States of America.
ABOUT ORTCOIN
Ort is DeFi powered and self–governing DAO designed to act as a revolutionary decentralized and broad platform for freelancing.
Not only does it provide the highest quality experience for B2B(Business to Business) but also for P2P (Peer to Peer) interactions. Through its intuitive user interface, Ort will match skilled freelancers for job postings across the globe. The highlight of the platform is the absence of transaction fees.
Ort's innovative model assures professional mediation ensures both the employer and employee, with the highest quality of work.
Follow Paycer: Website | Twitter | Telegram|Medium
ABOUT POLKAEX
PolkaEx is a cross-chain DeFi suite consisting of a Decentralized Exchange, a Launchpad, Liquidity mining, and NFT usecases. Our main chain of focus is Astar and by combining a Launchpad with a Decentralized exchange we believe this can open the door for legitimate projects seeking to raise funds and list on a Decentralized exchange on Shiden to do so in a decentralized, low fee and developer-friendly environment. Our Launchpad is live on Shiden Network, Ethereum, BSC and Polygon.
Our Dex was launched on Shiden Network with Staking and Liquidity mining. Shiden Network provides PolkaEx and the DeFi community with a whole Layer 2 scaling solution designed to benefit the user with a low transaction fee and fast speed. To sum up, while we make it possible for community members and investors to invest in early ideas and projects, we provide projects with a decentralized exchange to list their tokens on Shiden Network.