SYN CITY IDO Whitelist on TrustPad
🔥 Coming January 20th to TrustPad – Syn City #IGO! 😈
😈 SYN CITY is the first-ever Mafia #Metaverse, and one of the most anticipated upcoming blockchain games.
🤩 Backed by Twitch Co-Founder, Terra Co-Founder, Animoca Brands and many more.
⏰ Registration opens: January 18th, 11:00 AM UTC
📅 #IGO starts: January 20th, 11:00 AM UTC on TrustPad 🚀
💷 Initial Market Cap: $510K
💰 Total Public Allocation: $200K
💰 Total Private Allocation: $25K (Only offered to Orbit, Black and Obsidian)
✅ Min. 15,000 $TPAD staked needed for Guaranteed Allocation. The more you stake, the higher the allocation.
Pool Details 👉 trustpad.io/pool/syncity
SYN CITY IDO Whitelist on PolkaStarter (closed)
We are very excited about our upcoming IDO with industry-leading platform Polkastarter. The #MafiaMetaverse community has been extremely supportive, engaging, and absolutely lively because in just over 4 weeks, we are now a community of over 220k #Synners! Out of this, 110k are on Discord going head-to-head in preparation for syndicate takeover.
Details regarding the IDO are shared below:
DATE & TIME: The SYN CITY IDO will begin on January 7th 2022, 4:00 PM UTC
Total Tokens for Sale: 25,000,000
Polkastarter IDO price: $0.02
Ticker: SYN
Total Raise: $500,000
Max allocation per person: TBA
Network: Ethereum
Complete all the whitelist tasks to be qualified to participate in the SYN CITY lottery draw on Polkastarter:
Once you have completed all the tasks above, please head over to SYN CITY project page on Polkastarter and fill the form. Please complete all required steps & enter all the required information in the whitelist.
All whitelist lottery winners will be required to pass the SYN CITY KYC process in order to be able to participate in the IDO.
To learn more about how to participate, whitelist process and the KYC process, please visit Polkastarter whitelisting process
Important Information to Participate in the IDO
All whitelist entries will be screened to ensure their eligibility. The list below states possible violations which will lead to automatic whitelisting disqualification:
Invalid ERC20 addresses
Invalid email, Twitter, and Telegram handles
Duplicate entries
Entries by bots or any form of automation
Entries with incomplete whitelist tasks (list above)
Prohibited Country of origin.
Please note that citizens from the following countries are not allowed to participate in the SYN CITY IDO:
United States of America, Canada, China, New Zealand, Cuba, North Korea, Timor-Leste, Cambodia, Laos, Tanzania, Serbia, Tunisia, Uganda, Mali, Pakistan, Afghanistan, Somalia, Zimbabwe, Congo, Malawi, Mozambique, Crimea, Kyrgyzstan, Uzbekistan, Turkmenistan, Burundi, South Sudan, Sudan (north), Sudan (Darfur), Guinea-Bissau, Kosovo, Iran, Iraq, Libya, Syria, Ethiopia, Yemen, Sri Lanka, Ukraine, Belarus, and Venezuela
ABOUT POLKASTARTER
Polkastarter is empowering projects to launch cross-chain token pools and auctions in an interoperable, decentralized environment. Enabling backers safe and secure early access to crypto innovation. Our curation process and industry access enable us to offer the best new projects in blockchain and digital assets. With Polkastarter, decentralized projects can raise awareness, build a loyal community, and receive long-term support. Users of the platform will be able to participate in a secure and compliant environment and use assets both in and beyond the current ERC20 standard.
Website | Twitter | Telegram | Telegram Announcements
ABOUT SYN CITY
SYN CITY is the first-ever Mafia Metaverse. Displaying a stylized take on the world of modern syndicates, SYN CITY is free-to-play — play-to-earn, whilst truly making the Metaverse more accessible by introducing the revolutionary MAFIA as a DAO (MaaD) system. Players can grind in daily events, PvE, PvP, and Syndicate events such as cross-chain tournaments. The game is developed by a team of industry experts from Disney, Ubisoft, Roblox, EA, Gameloft, Google, Yahoo and Twitter.
Join the #MafiaMetaverse:
Website | Discord | Telegram | Twitter | Telegram Announcements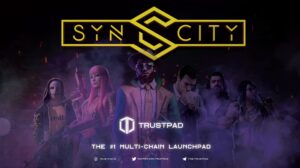 TrustPad x SYN CITY | 100 x Winners – Guaranteed IDO Allocation (closed)
Welcome to SYN CITY x TrustPad Whitelist Competition
We are giving away a $50 allocation to 100 lucky winners for the upcoming SYN CITY IDO on TrustPad! 🔥​​
Each winner will have a guaranteed opportunity to invest $50 in the pre-public round of SYN CITY on TrustPad.
A total reward worth $5,000* 🔥

How to participate?

💡 Simply enter your details, and follow the instructions below.
Every entry counts!More actions = more chances to win ✌️
Winners: 100 Allocation size: $50
SYN CITY IDO starts: January 7th, 12:00 UTC on TrustPad
The winners will be announced on TrustPad's Twitter and Telegram Ann Channel!
Good Luck!
➖➖➖➖➖