TaleCraft's mission is to create a dynamic and sustainable economic and play model for NFTs. TaleCraft is an NFT crafting game, built on Avalanche, where users, beginning with cards of the four sacred elements, play and craft-to-earn rewards in AVAX. Obtained with CRAFT tokens, these rudimentary NFTs evolve as players advance to higher levels. It is both a board game and a marketplace, where rewards are continuously distributed to NFT holders, creating both a passive and active way to earn and stay connected.
The TaleCraft team believes it is solving a problem that perhaps no one sees coming or is already thinly veiled in the marketplace.
Classic NFT minting have limited use cases and may come to bore.
Crafting Technology can be used instead of classical NFT minting.
Users can play games and make profit with Crafting Technology as well as with classic NFTs within the same game.
Crafting Technology is more engaging as players make money with strategy and through competition.
The ERC-1155 standard can be integrated into games, used in the metaverse, thus having great potential for the Avalanche Ecosystem.
TaleCraft's mission is to popularize this technology, but it is the token mechanics which represent an additional departure from standard issue as they are liquid and gamified.
Players must deposit 10 CRAFT and .1 AVAX in order to unlock a treasure chest and receive an NFT card.
Click here to register
Once the 10 CRAFT enter the game, users are granted an NFT card, which is assigned a "weight," which determines status within the game. Opening more chests, grants additional cards which can be combined in order to ascend levels.
Combined cards used to achieve a higher level will be burnt but where things get more compelling, is how the deposited CRAFT and AVAX are deployed.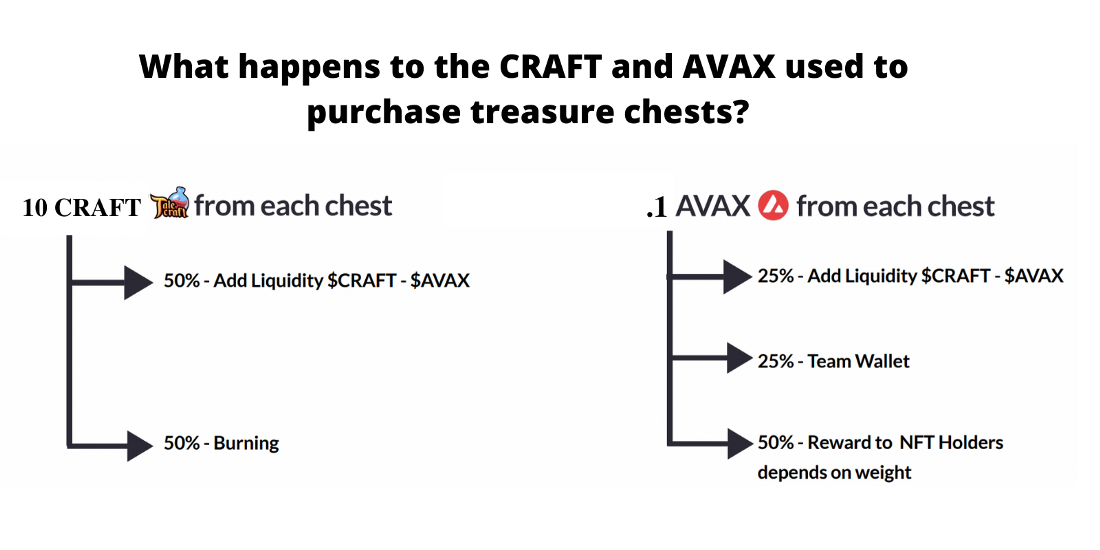 As the diagram illustrates, the 10 CRAFT and .1 AVAX are put to work. There is a potentially massive deflationary component to this token. Moreover, the continual feeding of Avax into the ecosystem should also have an interesting effect as many earning models are often more of the token one already holds. This is effectively the opposite.
Tokenomics
Roadmap
Team
Partners and Backers
Colony Labs
Avalaunch
Yay Games
Roco Finance
Chainlink
Pangolin
Trader Joe