Adroverse IDO Whitelist on BinStarter
IDO Date will be February 14th, 2022 on the BinStarter website.
Whitelist competition winners will be able to participate in Adroverse IDO.
First Round: 10 people with the highest score on the board will have a guaranteed place in the public sale. 40 people will be randomly selected from the applicants.
Follow the instructions and earn points. The more points you earn the more chances you have to win a guaranteed allocation in Adroverse IDO.
Good luck to everyone
All steps are mandatory. Users shall register and complete all steps listed below.

Provide your BEP-20 address that you want to use for the pre-sale (Metamask / Trust wallet address starts with 0x, no exchange wallet address)

(YOU NEED TO REFER AT LEAST ONE ELIGIBLE FRIEND, The more you refer the more your chances to win as you get more entries)

We reserve the right to cancel fraudulent entries
Click here to register
Welcome to SafeLaunch X Adroverse Giveaway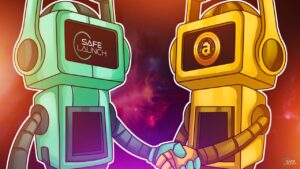 Adroverse is an evolving metaverse, where you can have fun playing blockchain and NFT based games, hang out with friends and earn revenue at the same time! The platform is Free-2-Play, Easy-2-Learn, and Play-2-Earn, which is a great recipe for an interesting gaming platform.
💎On February 14th, The much-anticipated Adroverse IDO will take place on SafeLaunch LaunchPad.
We're giving away $250 BUSD and SafeLaunch Broker Tiers to commemorate this IDO. 🔥
💢Campaign 1: Complete Tasks to Get a Chance to Win a SafeLaunch Broker Tier
Follow the steps below and become one of the 5 winners who will get a SafeLaunch broker tier✅
💢Campaign 2: Invite a Friends to Share $250
Invite your friends to join the campaign with the below refferal link, and the top 2 referrers will get $125 BUSD each and a SafeLaunch Broker Tier. 
💡Follow the steps below to enter:
🕳️🕳️🕳️🕳️🕳️🕳️🕳️🕳️🕳️🕳️
N/B: More actions increase your chances to win 🏆
Click here to register