GameUp IDO Whitelist on MoonStarter
Dear Community,
We are happy to announce that GameUp has selected MoonStarter as one of their launchpads for their IDO.
About GameUp
GameUp wants to empower already established games to move to the blockchain by simply integrating with the GameUp's API and rewards system.
Built on Polygon, BSC and Solana, GameUp will allow any centralized games' users to convert their in-game rewards into $GMU tokens. Those tokens can then be used to:
Purchase in-game items from different games
Mint unique rewards and trade them on the NFT Marketplace
Exchange rewards with other users on the P2P Marketplace
Get more rewards by staking $GMU
Click here to see the MVP in action.
Token Metrics
Initial market cap excluding liquidity: $437,000
Read More about the Tokenomics
IDO Details
Contribution chain: BSC
Distribution chain: Polygon
Date: 03 February 2022 at 12 PM UTC
Price per token: $0.05; 20% at TGE, then 20% monthly
Total allocation: $150,000
How to participate ?
Please refer to our Medium article explaining our Tier System to get more info about our 2 paths to secure an allocation for GameUp. In order to participate, you have to complete the Google Form HERE before February 1st, 2022 at 11:59 PM (UTC).
For The Galaxy Path, you will need to start staking MNST by January 30th, 2022 at 11:59 PM (UTC), at the latest.
Whitelist results will be published on February 2nd at 1PM (UTC).
For The Competition Path, you will have to perform tasks of Gleam Competition. You can start by clicking HERE.
Important! You will need to hold at least 1000 MNST to qualify for the competition.
For both paths, KYC is required and you need to have it approved by January 30th, 2022 at 11:59 PM (UTC) — KYC Link HERE.
About MoonStarter
MoonStarter's mission is to be the single-stop multi-chain launchpad for selected projects without distinction of the blockchain used. While the current project landscape is scattered and dependent on the blockchain used, MoonStarter aims to offer the possibility to launch on one or multiple selected blockchains, using only one token on the Binance Smart Chain.
GameUP IDO Whitelist Competition on LunaPad (closed)
GameUP whitelist competition
There will be a total of 100 people who will receive the right to purchase 200 usd per person
Luna-Pad will Host GameUP IDO on January 27, 2022 (1:00 PM UTC) 
IDO Information :
IDO Price : $0.05
Amount to Raise : 200,000 BUSD·
Listing Date : 28th January
Listing Exchange : Pancakeswap, MEXC/Gate
Listing Price : $0.05
Initial Market Cap : 787k
Click here to register
🛑 Vesting: 20% unlocked at TGE then 20% monthly
Token Name : GameUp
Symbol : $GMU
Total Supply : 500,000,000
GameUp IDO Whitelist Competition on CeloLaunch (closed)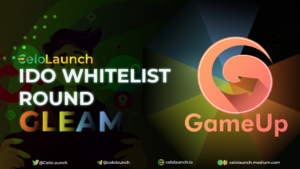 Whitelist competition winners will be able to participate in GameUp IDO on the CeloLaunch.
🛒Platform: CeloLaunch
📅 Date: January 27, 2022
💵Hard Cap: $100,000
👥 No. of winners: 200
💲Maximum Contribution: 0.5 ticket
💰Price: $0.05
🔒Vesting: 20% release during TGE, 20% will release per month
Click here to register
⚠️cLA holders are required
Winner needs to hold at least: 1000 $cLA
If you are the winner, you will have to lock 1000 $cLA to participate in the commit to calculate the allocation. $cLA will be unlocked one day after the IDO ends.
⚠️Notes
Follow the instructions and earn points.
The more points you earn the more chances you have to win the whitelist in GameUp IDO.
All steps are mandatory. Users shall register and complete all steps listed below. ​
Provide your Metamask address that you want to use for the pre-sale (Wallet address starts with 0x, NO exchange wallet address)
YOU NEED TO REFER AT LEAST ONE ELIGIBLE FRIEND, The more you refer the more your chances are to win as you get more entries
We reserve the right to cancel fraudulent entries
⏰ Deadline: Tuesday, 2022-01-25 15:00 UTC
Good luck to everyone!
https://celolaunch.io