Registration date: Nov 30th – Dec 2nd
Registration link: https://www.solanium.io/project/synchrony/
Truly Decentralized Asset Management Powered by A.I & Analytics.
Synchrony is a state of the art decentralized asset management platform utilizing a sophisticated suite of analytics and machine learning algorithms to evaluate and optimize sets of on-chain instruments producing single-click solutions for diversified exposure to an ecosystem's primitives. The core features powered by the platform are copy-trading and composable indices, both facilitated by a friendly Defi Farmer's market – a place to interact with the whole Solana blockchain from one location. It sounds complicated but Synchrony Simplifies Defi with A.I.
Features
Copy-trading (1st on Solana, 1st fully on-chain)
Composable Indexes
In-depth Analytics (provided and curated by our Team)
User-First Intentionality
Community Centric – our Team will be present & active
Roadmap
Roadmap is in phases:
Demo
Copy-Trading Alpha Test
Platform Launch
MVP: Main net launch of all Synchrony composed indices
Phase 1
Main net launch of copy-trading
Phase 2:
Cross-Chain Tooling
Main net launch of composable indices and tooling for cross-chain integration.
Phase 3:
Cross-Chain Deploy
Cross-chain Integration ETH/BSC/DOT
Background and backers
Andrew Fraser
Founder & Chief Architect/Engineer
Andy Keh
Founder & Chief Analytics Engineer
Mohammed El Amine
Data Scientist & Software Engineer
Maurice Chalfin
Marketing, Communications, & Community
Souleimaine Chbani
Tokenomics
The SCY Token
SCY is the utility token for the Synchrony Ecosystem.
It's use-cases include, but are not limited to, the following:
– Stake SCY to become authorised provider for indices – allowing arbitrage
– paying for subscription services or to cover subscription costs through staking
– staking is also used to validate a leader wallet for others to follow
– staking SCY to deploy indices
– staking SCY to be highlighted on Synchrony Leaderboard
– unlocking accolades and cosmetic upgrades
– limited governance
– accessing private chats and community specific perks
Token distribution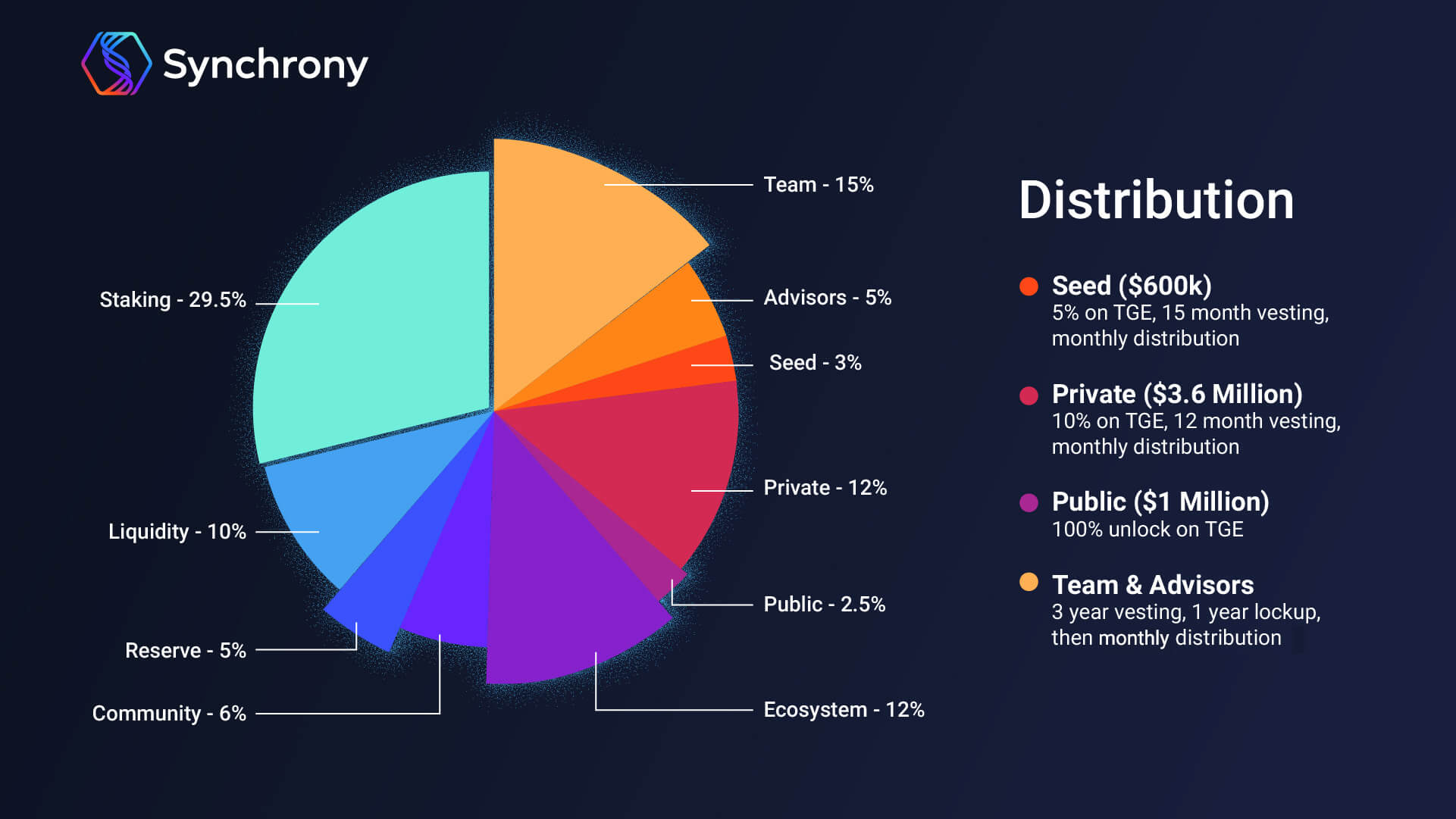 Team 15.00%
Advisors 5.00%
Seed 3.00%
Private 12.00%
Public 2.50%
Ecosystem 12.00%
Community 6.00%
Reserve 5.00%
Liquidity 10.00%
Staking 29.50%